Saint Seiya Fans' Page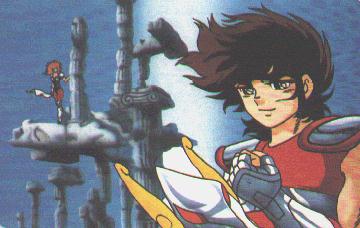 Last Updated: June 16, 2000.
This page is devoted to all the fans of Saint Seiya, one of the greatest manga (Japanese Comics) and anime (Japanese Animation). On this page, you will find description of the story, character profiles, fan materials, and links to many wonderful home pages about Saint Seiya made by fans.
Please do not hesitate to send your opinions and questions to me. Your input will be welcome and appreciated, and I will make my best efforts writing back to you.

Many thanks to the following people for providing images and/or inspirations for this page. Without the help and support of these fellow St. Seiya fans, this page would never come into being.
At the present time, only profiles for Aries Mu and Aquarius Camus are available. Please be patient, because my site is being updated every few days.




---





Copyrights Acknowledgement: Saint Seiya is by Masami Kurumada, Toei Animation and Jump Comics.

---

saintseiyafan@hotmail.com




---